Published
17th, July 2017
ORANGE COUNTY, Va. (WVIR) –
Orange County is creating its own broadband network to bring high-speed internet to more remote parts of the county. First, it will connect all of the county's schools before bringing businesses and homes online. This $1.3 million project is the start of the Rural Broadband Initiative to cover the county with affordable, reliable high-speed internet. Internet speed sometimes impedes business at Piedmont Power in Orange County.
"Very slow and really not a lot choices," owner Jack Rickett said. "If it's a tough weather season, we'll have in and out in and out type of service."
Rickett awaits the day the World Wide Web flows freely, and fast, into his outdoor equipment showroom on Route 15.
"You work around what you have to work with and that's pretty much what we're doing and what we've been doing," Rickett said. That will soon change thanks to Orange County Public Schools. The school system is partnering with the county to build a broadband network. Thirty-three miles of buried fiber will connect every school to high-speed internet.
"They'll be able to connect back here to the central office via a 10-gig link," Darell Hatfield, OCPS director of technology," said.
The broadband backbone will run along Routes 15 and 20, and branch off from there.
"Orange is a very under-served area when it comes to internet connectivity. This will allow them the backbone and the ability now to come off the backbone and get the internet to our citizens," Hatfield said. The schools fiber project is part of a long-term rural broadband initiative. The county is developing a wired and wireless network to offer broadband access to more homes and businesses.
"We hope to not only make direct use of that fiber, but to attach towers to it for our public safety radio system as well as have a wireless broadband feature to reach those areas of the county," Jim White, Orange County Broadband Authority chairman, said. The county hopes high-speed internet serves as the gateway to attract new businesses and create a better quality of life.
"We're pretty confident we're on the right path of getting the infrastructure in place, and then it's just whatever the mind can be creative about how to apply that technology," Bryan David, Orange County administrator, said.
A federal grant is covering most of the cost of the schools fiber project. It should be up and running by the start of the school year in 2018. The county expects to open it up to the public in about two years.
LOUISA COUNTY, Va. (WVIR) –
Louisa County is moving forward with its efforts to improve internet service. County planners say in a rural town like Louisa, it's harder to keep up to speed, but doing so is necessary. This is all part of a project led by the Louisa County broadband authority. As part of phase one, county planners envision new towers that would help make internet faster. The Louisa County Board of Supervisors has already approved the $1.1 million fund for helping broadband expand in the county.
"In today's world it's a necessity, for medical issues, job related issues, we have a lot of citizens that work from home, would like to work from home," Fitzgerald Barnes on the Louisa County Broadband Authority said.
"In rural counties, economically it's not profitable for companies, local ISP's, to create broadband in rural areas, there's not enough customers," IT director Bob Hardy said.
The LCBA's goal will use the funding to put up 10 towers. That will allow expansion of the current internet service providers.
"As well as to connect from those towers to neighborhood poles and serve customers that way," Hardy said. Four county property locations have been identified as places to install the towers.
"The high school, Moss Nuckols Elementary, Jouett Elementary, and somewhere in the Holly Grove Area," Hardy said.
It's expected that about 50 percent of homes in Louisa will be covered with these initial 10 towers. Barnes says not having efficient internet access hurts real estate.
"New business, coming here, that's one of the first things that business wanna know is whether or not we have internet, we've had people not being able to sell their homes because the buyer found out there's not internet access," Barnes said. The LCBA expects to begin fast-track construction late this summer. The towers are expected to be anywhere between 120-190 ft. tall.
Published
14th, April 2017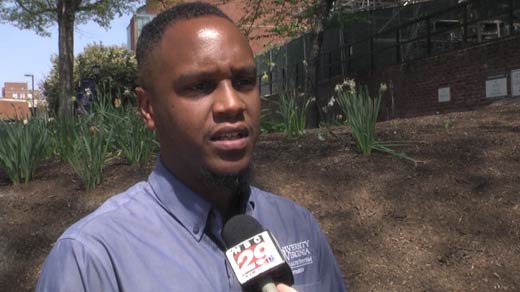 Charles Lewis MADISON COUNTY, Va. (WVIR) –
Madison County is taking steps to make sure everyone is up to speed when they log onto the internet. The county is asking residents to take part in a survey1 that could influence some future decisions.
Madison County's Broadband Committee2 is circulating that survey right now. The county estimates at least 8,000 people within its borders do not have access to sufficient broadband internet service. The questionnaire asks things like, 'What you use the internet for?' and 'What you wish you could use it for?'
Members of the committee say the survey is an essential first step to improving connectivity.
"We found out by looking up the numbers that over half – nearly 60 percent – of residents and or business owners lack high-speed internet in Madison County. So we know it's important in order to grow business, as well as for the students' education to really be fulfilled – when it comes to research projects, and things like that," said Charles Lewis with the Madison County Broadband Committee.
Yoder's Country Market3 is among places in the county where people can pick up a hard copy of the survey.
It can also be found at the Madison County Library4. The deadline for the survey is May 23. After that, the committee will be compiling all the data to present to the Madison County Board of Supervisors.
References