In just a few weeks time, on May 4, Surrey residents will go to the polls to vote for their local county councillors. But who are the candidates for Waverley and what local issues are they pledging to tackle?
Conservative Party
Andrew Povey (Cranleigh & Ewhurst), Pat Frost (Farnham Central), David Hodge (Farnham North), Robert Ramsdale (Farnham South), Steve Cosser (Godalming North), Peter Martin (Godalming South, Milford & Witley), Richard Hampson (Haslemere), Victoria Young (Waverley Eastern Villages), David Harmer (Waverley Western Villages)
Peter Martin (right) pictured alongside Virgin Media executive director Neil Bartholomew and Windlesham Parish Council chairman Rebecca Jennings-Evans Councillor David Harmer has represented Waverley Western Villages since 2005. (Photo: TMS)
Deputy leader Peter Martin has been a councillor for 12 years thus far and is keen to pursue another term in office. The Godalming1 resident and economic prosperity cabinet member hopes to help improve the county's economy.
He said: "I have been doing the job for 12 years now with a positive vision for Surrey and for the economy too.
"We continue to see the economy grow by 20% in four years, based on the latest figures we have.
"We have brought broadband to thousands of houses and hope to bring more to another 5,000 across the county and are very keen to build schools.
"The council has built the equivalent of 31 schools across the county and continue to expand the number of in the area because of the rise in birth rates.
"I would like adult social care to be addressed and get the best deal for the roads and for pavements because a lot of people have raised this issue in the area."
David Harmer, standing Waverley Western Villages, is enthusiastic to campaign for what will be his fourth term in office. The Conservative candidate is focusing on three issues: broadband, roads and school places. He said: "Why not?
I would like to continue the work I have worked on.
"For those that are directly affected, to get as many properties as possible with super fast broadband.
Over 600 do not get super-fast broadband or the availability I should say and so that is the most important thing for me.
"The second thing is school places and, hopefully approximately the right places because we obviously we can't predict when and where families are happening or moving but we can work towards making sure there are enough places.
"Third, to get the roads in as good condition as possible."
Green Party
Fiona Scimone (Farnham Central), Dave Beynon (Farnham North), James Coope (Godalming North), Jon Taylor (Haslemere), Susan Ryland (Waverley Western Villages)
Jon Taylor is the Green Party candidate for the Surrey County Council 2017 election (Photo: Jon)
Green Party2 candidate Jon Taylor believes David Hodge's3 "gentleman's agreement should not be made in this day and age."
He said: "Governance in the 21st century Britain should not be done through private handshakes in Tory backrooms.
"The people of Surrey have every right to know what deals are being done on their behalf."
He added: "As an environmentalist for many years I've always had to be politically engaged, but the past couple of years – rising populism, Brexit, President Trump – convinced me to switch from engaged to active.
"There are many people out there who see our rapidly-changing world as an opportunity for building a fairer, more sustainable society, rather than building walls and raising drawbridges – I don't feel those people are being heard enough at the moment.
Farnham Residents' Association
Andy MacLeod (Farnham Central), Stephen Spence (Farnham North), John Ward (Farnham South)
Liberal Democrat
Richard Cole (Cranleigh & Ewhurst), Jo Aylwin (Farnham Central), Rob Walton (Farnham North), Mark Turner (Farnham South), Penny Rivers (Godalming North), Paul Follows (Godalming South, Milford & Witley), Jon Robini (Haslemere), Fabian Cole (Waverley Eastern Villages), Geoffrey Whitby (Waverley Western Villages)
Labour Party
Luke Wenman (Cranleigh & Ewhurst), Andrew Jones (Farnham South), Kate Townsend (Godalming South, Milford & Witley), Kim Hemmingway (Haslemere), Lewis Curtis (Waverley Eastern Villages)
Cranleigh & Ewhurst Labour candidate Luke Wenman. (Photo: Unknown)
UKIP
Rosaleen Egan (Cranleigh & Ewhurst), Jim Burroughs (Farnham South), Brian Egan (Godalming North), Gail Weingartner (Haslemere), John Walker (Waverley Eastern Villages)
Independent
Mark Wescott (Farnham South)
All political parties were contacted by Get Surrey for comment.
Keep up to date with the latest news from around the county via the free Get Surrey app.
You can set up your app to see all the latest news and events from your area, plus receive push notifications for breaking news.
Available to download from the App Store5 or Google Play for Android6 .
References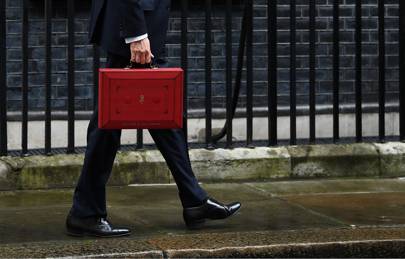 JUSTIN TALLIS/AFP/Getty Images
The government has used the Spring Budget to once again promote its investments in 5G research and "full fibre" broadband infrastructure.
What is 5G and when will it launch? WIRED explains1
What is 5G and when will it launch? WIRED explains
---
ADVERTISEMENT
A National 5G Innovation network, which will receive ?16 million in state funds, will work with research institutions to start trials and speed-up development of the technology. A team within government will also be tasked with overseeing the 5G programme. Funding for more trials would be awarded on a "competitive basis" the treasury said. The UK already has a 5G innovation centre, which opened at the University of Surrey in September 2015. The ?70 million facility, which received ?12 million in government funding, acts as a testbed for the new mobile standard, housing 170 researchers in a purpose-built building.
It is unclear how this facility fits into the government's new strategy, but it is likely to play a leading role. An additional ?270 million for new technology such as robotics, batteries, and self-driving cars was also announced in the Spring Budget2. The Industrial Strategy Challenge Fund will aim to "kick-start the development of disruptive technologies" that can benefit the UK economy, the treasury said. This investment was teased earlier this year when the government released as part of the proposed Vehicle Technology and Aviation Bill3.
Budget 2017 highlights
---
Industrial Strategy Challenge Fund (ISCF) An initial investment of ?270 million in 2017-18 will kickstart the "development of disruptive technologies that have the potential to transform the UK economy."
The first wave of challenges funded from the ISCF will include the design and manufacture of batteries for electric vehicles, tackling air pollution, developing AI and robotics systems for "extreme and hazardous environments", and accelerating patient access to new drugs and treatments.
5G The government's 5G Strategy sets out steps for the UK to "become a world leader in the next wave of mobile technology and services."
This includes a new National 5G Innovation Network to trial 5G applications. The first phase will invest up to ?16 million in a 5G facility to work with the government's new 5G centre of 5G expertise.
The government will also work on commercial options for improving coverage on roads and rail, and work with Ofcom to ensure the UK is fit for 5G.
Full-fibre broadband Starting this year, the government will invest ?200 million to fund a programme of local projects to boost the roll-out of full-fibre broadband as well as offer full-fibre broadband connection vouchers for businesses.
Elswhere, the government and local authorities will connect public sector buildings, such as schools and hospitals to bring full-fibre closer to more homes and businesses. Public sector assets, such as existing ducts, will be opened to allow fibre to be laid more cheaply, too.
Elsewhere, chancellor Phillip Hammond said the government would provide ?200 million to fund a programme of local projects to speed-up the introduction of full-fibre broadband networks in the UK, which have been plagued by delays and overspending for years.
Google, BT and more pledge skills training for millions as part of the UK's Digital Strategy4
Google, BT and more pledge skills training for millions as part of the UK's Digital Strategy
---
This new initiative will look to create "enough broadband demand" in local areas to reduce the financial risk of building new fibre networks. Public sector assets, such as existing ducts, will be opened up to allow fibre to be laid more quickly. The ?200 million investment is in addition to a ?400 million "full fibre" commitment made in the Autumn Statement5 as part of the government's Digital Infrastructure Investment Fund. That investment will be matched by the private sector to improve fibre roll-out over the next four years. The government's continued attempts to bring the UK's internet infrastructure up to standard comes after regulator Ofcom ruled Openreach, the body responsible for the physical pipes and cables on which UK communications networks rely, should be run as a "legally" separate company from BT. The ruling, made in July 2016, has been opposed by BT6.
ADVERTISEMENT
Earlier this month, the government announced its long-delayed Digital Strategy7, which outlined how firms including Google, Barclays and BT will help train millions of people and plug the digital skills gap.
Read the full Budget 20178 documents.
References
After its Open Market Review that identified some 15,000 premises not able to get superfast broadband in the county of Surrey the council has finally announced[1] what will happen with the gainshare re-investment, and this is that some 6,000 premises that are currently not able to get superfast broadband (faster than 24 Mbps) will see work to improve their service options available. Our tracking of the coverage in Surrey[2] has the county with 96.54% coverage at the faster than 24 Mbps level, reducing to 96.30% if you use a 30 Mbps qualifier. There is actually 98.8% who are passed by a VDSL2/cable/FTTP service, but the distance drop off for VDSL2 results in the drops to 96.54%.
So what difference will 6,000 premises make to the total? We suspect it will bring superfast coverage up to around 97.5% and fingers crossed there will be more gainshare in the future to boost coverage even more. There is no detail on what technologies will be used, but the extension work is with BT and given the 3.81% of FTTP already deployed and a greater emphasis on pure fibre within Openreach these days fingers cross a lot of the 6,000 will be fibre to the premises.
We have not gone through the released postcode list with a fine tooth comb yet, but given the data we have on coverage we not finding it difficult to identity postcodes like KT18 6DH which are in the 9,000 premises missing out.
The work on the 6,000 is set to start in January 2018 with a second phase in the first three months of 2019 and the council has emphasised that being on its list carries no guarantees as the planning stages may mean that the plans change.
Once our work to hoover up all the new build premises from 2016 has completed we will look at integrating the Surrey postcode list into our own checker.
---
References

^ finally announced (superfastsurrey.org.uk)
^ coverage in Surrey (labs.thinkbroadband.com)