When the government recently pledged "gold standard full fibre[1]" broadband, a collective cheer went up – at least for a short while, until we reflected upon the fate of most such announcements, the realities of stuttering broadband, and the prospect of dealing with one of the big providers.
By submitting your personal information, you agree that TechTarget and its partners[2] may contact you regarding relevant content, products and special offers.
You also agree that your personal information may be transferred and processed in the United States, and that you have read and agree to the Terms of Use[3] and the Privacy Policy[4].
The history of this industry says the "gold standard" will not happen without four major reforms. Just how much of the pledged ?1bn will end up in fibre to the premises and how much in waste or corporate profit? How many of the "up to two million homes and businesses" will actually experience merely another politician's promise?
My 35 years in and around government has led to a certain cynicism. Announcements are primarily designed to fend off the press, the opposition and campaign groups, and to buy the government time by throwing a new idea to the snapping packs. It's a familiar story: fast-forward a few years and the policy has been scrapped, it turns out no 'real' money was allocated, and the minster and civil servants have now changed.
Meanwhile, BT's answer to its failings, caused by its lack of investment in fibre and switches and its disorganised and costly installation and repair operation[5], is to invest in its customer service programme. One local government official leading the installation of rural broadband spoke at a recent Local Government Association (LGA) conference. Malcolm Corbett of the Independent Networks Cooperative Association (INCA) was asked what it was like working with Altnet Gigaclear[6] compared to BT.
He thought for a few seconds, then replied: "It's like escaping from an abusive relationship." Everyone giggled, smiled, and understood exactly what he meant.
Poor governance leads to failure

Long gone are the days when BT stood up internationally as world class. The charge sheet runs to several pages. Why all these tricks?
Why are they allowed? Why can't broadband be a real market, like retail, with real choice, straight pricing and products that work? It is the hidden but broken hand of governance at the heart of this failure.
The industry performs as well as its poor governance. This is invariably true. Every institution fails: Ofcom, the Department for Culture, Media and Sport (DCMS), government, the National Audit Office (NAO), the Commons, the Lords.
And the reason they all fail is that they exist within a system of government that has never ever been designed for this purpose. It's not their fault; it's the system they inhabit. The reality is that this has allowed BT to become a national disgrace.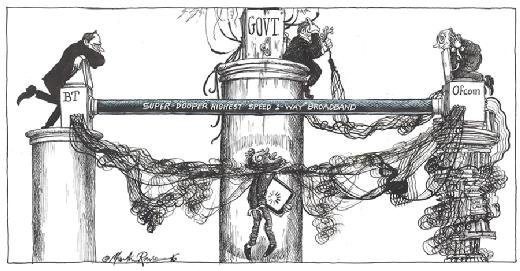 So what is to be done?
Short of a much reformed system of government – entirely needed but would take a while to produce – our only hope is Parliament. Setting the terms of governance is, or should be, a major part of its job. It has to drop its obsequious acceptance of its place as a debating chamber, cross those party lines and grip the system.
Hanging on to one's seat, hoping for a ministerial job, or finding refuge in one's constituency are insufficient excuse for ducking this issue.
Take action, get results

First, we need the facts of industry performance. Facts have to be produced independently: self-scoring ministers – or regulators – using rhetorically spun statistics conceal the truth. This is a job for a fully independent Office for National Statistics (ONS).
Then we will no longer spend years arguing over the scores. Instead, we can concentrate on how to improve. Second, the regulator has to be given strong objectives with all decision making in full view.
The Monetary Policy Committee has operated this way since 1997, with members' views and votes recorded publicly. The discipline and learning this produces has resulted in an interest rate regime far superior to its previously politically set method. The industry should be able to express its preferences, but not behind closed doors.
All their submissions should be made public and subject to open discussion. No more lobbying in private. It should be rationed to give small companies equal air time.
Third, Ofcom and DCMS have to be staffed and led by specialists with the right experience[7]. This should include tough enforcers. Lance Corporal Jones in Dad's Army had it right: "They don't like it up 'em!"
Fourth, Parliament should establish one select committee from both the Commons and the Lords, whose remit should be to ensure that all the above is happening and producing results. Its powers should include the appointment of the chief regulator and its board. Then we need a plan – one that is based on a thorough grasp of practice in other countries, and that sets clear objectives for the services we need, and the actions to get us there.
Theresa May has said corporate governance needs to be strengthened. Indeed. Her greenpaper on industrial strategy[8] has now been published and parts of it look sound.
But certainly its broadband element will flounder without the reforms of government governance set out here. So it's time to act; then all those flowery promises should actually occur and we can compete. High-quality broadband is not just about you or me watching The Crown in high-definition without a single whirring centipede interrupting our viewing pleasure.
This is nation critical, this is industrial strategy, this is post-Brexit essential[9]. The new digital divide between mainly rural and mainly urban areas is locking industry into the south east and limiting growth even in somewhere as wealthy as Gloucestershire. Business enablement (communications, logistics, roads, rail, and a skilled national workforce) is vital to be successful outside the EU.
Wake up Parliament: your country needs you far more than your political party.
References

NEW residents in a Chipping Sodbury estate were left frightened and angry after their cars were sprayed with red paint by a vandal looking to 'prove a point'. At least 20 cars on the new Barnhill Quarry housing development were targeted, with some spray painted several times since the mystery graffiti started appearing in January. Most cars have been sprayed with a simple line down the side, but one van owner had a smiley face drawn on his work vehicle while another driver had her car's radiator kicked and broken.
Police said they believe they are looking for one person responsible for all the attacks. PEOPLE in Codrington who were cut off from the internet by slow broadband speeds handed in a petition to South Gloucestershire Council. Almost all of the 60 householders in the village near Chipping Sodbury signed the petition calling for superfast broadband speeds to be installed in small, rural areas.
Resident and campaign leader Terry Barnaby said: "Codrington is only a couple of miles from Yate and Chipping Sodbury, however, in line with other small villages in the area we have a big problem with the internet.
"We have been suffering for quite a few years with very poor quality lines and low broadband speeds and when it rains the lines go down."
He said the 17 small businesses based in the village were at a particular disadvantage.
Businesses and homes in Cheltenham hoping to be able to access fast broadband might be cheered by the latest news down the line from BT. The telecommunications giant has revealed that together with its network business, Openreach, it plans to install what it is calling "new Ultrafast broadband technology" in the town. It follows trials of the technology in other parts of the UK and will, claims BT, make Cheltenham amongst the first in the UK to benefit.
It will give some lucky enough to live close to the road-side cabinets which help connect the network download speeds of up to 330Mbps (megabits per second) – more than 10 times the UK national average.
"This will benefit thousands of premises in Cheltenham which will be given access to the technology during 2017 with details about exactly where and when to be published shortly," said a spokesman for the firm. Steve Jordan leader of Cheltenham Borough Council said "We welcome this news that Cheltenham has been chosen as one of the pilot areas in the country for Openreach's Ultrafast broadband.
"Cheltenham's importance as a digital hub continues to grow, being at the forefront of new technology advances. We look forward to businesses and residents being among the first to enjoy the benefits of this during 2017."
Clive Selley, Openreach's chief executive, said: "The UK leads the way when it comes to superfast broadband.
"More than nine out of 10 homes and businesses have access to superfast speeds with another 20,000 more premises being enabled each week, and we're working hard to reach the rest, as well as rollling out Ultrafast speeds.
"I'm delighted Cheltenham will be one of the first locations to get Ultrafast speeds using G.fast technology.
It' enables us to get an affordable Ultrafast service to as many people in the fastest time."
Neil Smith, director of Cheltenham-based communications and broadband specialist Reform IT, said while the move was welcome and would benefit those close to cabinets the speed would tail off the further away homes and businesses are.
"What is needed is an investment in fibre optic cable that benefits everyone – not this attempt to squeeze the most out of the old copper lines," said Mr Smith, whose firm is helping homes and businesses achieve faster speeds with its point-to-point wireless solutions.
Openreach plans to make G.fast available to more than 10 million UK homes by the end of 2020.