Skyriver reinvents broadband connectivity with deployment of millimeter wave broadband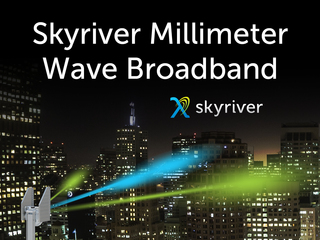 (PRLeap.com) May 16, 2017 – Skyriver announces today the commercial launch of its Gigabit millimeter wave (mmWave) broadband service, Skyriver Magnitude(TM). The first fixed mmWave service offering of its kind, Skyriver Magnitude transcends the physical and economic limitations that are inherent in fiber solutions. Skyriver Magnitude, powered by the company's proprietary 5G class Point to Multipoint technology, leverages the vast high frequency spectrum known as millimeter waves.
"The rapid adoption of workplace technologies, cloud services and content driven applications are fueling a hyper dependence on broadband.
But fiber penetration is increasingly falling short. Recognizing that the immense fiber gap cannot fulfill the needs of our accelerating data economy, we are launching a mmWave offering that will transform broadband," said Skyriver CEO, Saeed Khorami. Skyriver Magnitude empowers data-driven enterprises to meet the continually increasing demand for bandwidth. "Employees are quickly forming new habits and continuously impacting network performance. Maintaining smooth operations in the midst of bustling change is exceptionally difficult given the constraints of fiber," says Skyriver VP of Marketing, Jenny Bourbiel. The service will fundamentally change the way people understand and utilize broadband. "Unleashed from the confinement and restrictions of wired solutions, user centric IT environments will be free to evolve organically. Vast data from cloud services and heterogeneous networks can be harvested dynamically. Intensive bandwidth applications such as 4K video can be readily utilized," added Bourbiel. Skyriver Magnitude is available in Los Angeles, Orange and San Diego Counties. The company is utilizing mmWave spectrum in the 30 to 40 GHz range, and plans to expand the 5G class service into several additional markets in the future.
"This has been an exciting journey towards a new era in connectivity. Forward-looking trends coupled with insightful customer data has fueled our pioneering advancements in mmWave broadband. We have created a highly scalable and affordable service that changes the broadband paradigm." added Khorami.
About Skyriver – www.skyriver.net1
Skyriver is a leading-edge millimeter wave (mmWave) broadband provider transforming broadband via technological ingenuity and inspiring customer insights. The company's innovative approach stems from its mission to advance connectivity for data-driven businesses. Leveraging its expertise in wireless communications, Skyriver is meeting the rapidly accelerating demand for enterprise-grade broadband through its pioneering developments in mmWave.
Headquartered in San Diego, Skyriver serves a multitude of businesses including technology, manufacturing, education, government, bioscience, entertainment, retail, hospitality, media, and fortune 500 companies.
GET IN TOUCH
Jenny Bourbiel
Skyriver
858-812-9328
http://www.skyriver.net/2
You can see the original version and more on PRLeap here: http://www.prleap.com/pr/254901/skyriver-reinvents-broadband-connectivity-with3
References
^ www.skyriver.net (www.skyriver.net)
^ http://www.skyriver.net/ (www.skyriver.net)