Research: Global Fiber Broadband Penetration Surpasses DSL, On Track for 1 Billion Connections
Fiber broadband penetration has been building momentum across the globe. So much so, fiber has surpassed DSL as the most common fixed broadband platform, accounting for 43.2 percent of the global market, research firm Kagan highlights in recently released market research. Kagan is a unit of S&P Global Intelligence1.
Growth in fiber network deployment rose a sharp 55.6 percent worldwide year over year in 2016, putting fixed broadband connections on track to reach 1 billion subscriber lines by year-end 2021, a five-year CAGR of 5.2 percent, Kagan said. China and the U.S., respectively, are the two largest fixed broadband markets by far, accounting for 46.9 percent of the worldwide total in 2016. China alone accounts for 34.7 percent of the global total, and fixed broadband connections increased 45.7 percent in 2016 as Chinese providers continue to follow through on the central government's Broadband China initiative.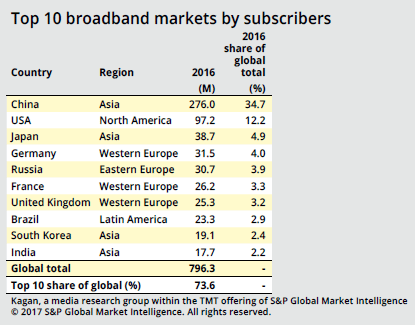 Nonetheless, fixed broadband household penetration lags in most of the world's most populous nations. Just two countries – France and South Korea – made it into Kagan's2 global top 10 list in both that absolute number and per household fixed broadband connections. In addition to a growing FTTH footprint in the U.S., fiber-connected commercial buildings are on the rise as well. The number of fiber-connected commercial buildings in the U.S. soared 49.6 percent year-to-year in 2016, according to the latest market data3 from Vertical Systems Group.
Nine in 10 U.S. commercial buildings lacked fiber network access back in 2004. That dropped to 50.4 percent last year.

References
^ S&P Global Intelligence (www.spglobal.com)
^ market data (www.telecompetitor.com)