The TVWS-based service is the brainchild of Nominet, an organisation better known as the .uk domain name registry. It is working with Broadway Partners, whose aim and ambition is "to cover the whole of the UK with Whitespace radio, a technology perfectly suited to meeting the rural broadband challenge." Broadway Partners says TVWS spectrum is tailor-made for remote, hard-to-reach rural areas, delivering great quality broadband even through trees and buildings and around hills."
Currently trialling the latest generation of the technology which can deliver 40Mbps, it is expected that a further iteration will boost that to 100Mbps. The great thing about TVWS is that anyone that wants to can freely use it to build a commercially viable high-speed data network. BT ran TVWS trials on the Scottish island of Bute and in rural Suffolk but abandoned them to concentrate on "other solutions". Meanwhile, across the Atlantic, Microsoft has big plans to use TVWS to bring broadband to the huge swathes of the country that still do not have access to broadband services at anything approaching economical user rates. According to the latest figures from the US regulator, the Federal Communications Commission (FCC), 24 million Americans living in remote rural areas are still without broadband. Step forward, Microsoft.
As part of the 'Rural Airband Initiative' the company says it can solve the problem within five years by using TVWS. It plans to have 12 trials underway in twelve states by mid-2018. Microsoft's Chief Legal Officer, Brad Smith, says, "Real progress to close the rural broadband gap has plateau'd in recent years. Our goal is not to enter the telecoms business ourselves or even profit directly from the projects we get involved in. We will invest in the upfront capital projects needed to expand broadband coverage, seek a revenue share from operators to recoup our investment and then use these revenue proceeds to invest in additional projects to expand coverage further."
"As a country we can't settle for an outcome that leaves behind more than 23 million of our rural neighbours. To the contrary, we can and we should bring the benefits of broadband coverage to every corner of the nation. This is about getting everybody online in rural communities, including consumers, businesses, farmers and schools."
At first glance TVWS certainly seems to have the potential to be more viable and, literally, less "pie in the sky" than Facebook drones or Loon balloons.
Time will tell.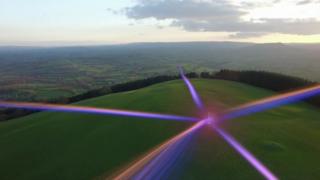 The broadband gap in a part of rural Monmouthshire is set to be plugged by TV broadcast frequencies left over from the digital switchover. A pilot scheme will see TV white space used to send a high-speed broadband signal from a standard mast. Filmmaker Martin Phillips is taking part and said it would "revolutionise" working from his home in Llanarth. But some experts have said more should have been done to deliver fibre broadband to as many homes as possible. White space uses the spare spectrum in the UHF band1, no longer needed for television broadcasts following the digital switchover. Llanarth is the second community to take part in the scheme, which is already up and running on the Isle of Arran2 in Scotland. Domain name registry firm Nominet is partnering with telecoms firm Broadway Partners to roll it out.
Image caption Filmmaker Martin Phillips has signed up to the pilot in Llanarth
There have been several trials of white space technology (TVWS) in the UK. BT ran some on the Isle of Bute and in Sutton, Suffolk, but has since moved its attention to other technologies. Like a television signal, broadband delivered in this way can travel up to 10km (six miles) over hills, through buildings and trees direct to people's homes.
It has been recognised for some time that it can help plug the gap3 in coverage in rural areas. What is new, according to the companies involved, is that now it is commercially viable and can deliver faster speeds.
Mr Phillips, who used to struggle to send footage to clients via the internet, said: "It's the consistency that makes the difference for us. "It's knowing that once you press a button it will work, it will send, and the fact it's raining or cloudy or windy outside isn't going to change that."
The former chief technical officer of BT, Peter Cochrane, said rural areas had been neglected. He said: "All of these stop-gap measures are like a finger in a dyke. They under-provide the band width, they hardly meet today's needs let alone tomorrow's.
"We're wasting billions betting on things that can't possibly meet our needs in the future. " The UK's broadband infrastructure is run by Openreach, which agreed a split from BT4 following concerns from the regulator Ofcom. An Openreach spokesman said 80,000 internet exchange boxes had been installed across the country to connect fibre broadband to properties.
He added: "The rural roll-out is accelerating at pace and we will find the gaps are being closed."
References
A new survey has revealed which UK areas are suffering the most when it comes to poor broadband speeds. The research from by communications watchdog Which? highlights not only the worst offenders when it comes to average download speeds, but also the best regions for high-speed internet across Britain. Based on data collected from 719,000 "Speed Checker" tests collected from January to March this year, the results present a particularly bleak picture for Scottish netizens, with Orkney Islands, Shetland Islands and Highland local authority areas rounding out the bottom of the table. Of those it was Orkney Islands which landed the wooden spoon, recording an average download speed of just 6.3mbps, with Shetland (8.4mbps) and Highland (8.8mbps) edging just ahead, but still falling well short of expectation.
The Scottish trio join eight other areas in failing to meet the 10mbps minimum recommended speed for families outlined under the UK Government's Universal Service Obligation for broadband. The shamed regions are Ryedale, Purbeck, Na h-Eileanan Siar, Powys, West Devon, Eden, Rother, and Sterling. At the other end of the table, West Midlands' Tamworth took home the trophy for super-fast broadband speeds, boasting a whopping 30.4mbps average. Reading (30mbps), Adur (29.2mbps) and Enfield (29.1mbps) took the remaining top spots.
"Far too many households across the UK are suffering from slow broadband speeds, which can stop you being able to carry out essential daily tasks," said Which? managing director of home services, Alex Neill.
"We are encouraging everyone with broadband to use our speed checker so people can see if they are getting the speeds that they've been promised by their provider and find out how to complain if their speed is too slow."
"This will also help to further highlight where problem areas are across the UK, putting pressure on government and providers to help everyone get a good broadband connection."
For London, Southwark also failed to shine in the tests, registering last among the capital's boroughs with a lowly average of 10.4mbps.
Westminister (12.9mbps), Lambeth (13.2mbps), City of London (13.4mbps) and Hackney (16mbps) also failed to cover themselves in glory.
Below are the full top and bottom tables for the Which?1 survey:
UK's worst broadband areas by average download speeds (mbps)
Orkney Islands Scotland 6.3 Shetland Islands Scotland 8.4 Highland Scotland 8.8 Ryedale Yorkshire and the Humber 9 Purbeck South West 9 Na h-Eileanan Siar Scotland 9.1 Powys Wales 9.4 West Devon South West 9.5 Eden North West 9.5 Rother South East 9.5 Stirling Scotland 9.8 Monmouthshire Wales 10 Isle of Anglesey Wales 10.1 Southwark London 10.4 Suffolk Coastal East 10.5 Allerdale North West 10.7 Breckland East 10.8 Maldon East 10.8 West Somerset South West 10.9 Kingston upon Hull, City of Yorkshire and The Humber 10.9
UK's best broadband areas by average download speeds (mbps):
Tamworth West Midlands 30.4 Reading South East 30 Adur South East 29.2 Enfield London 29.1 Dundee City Scotland 28.7 Luton East 27.6 North East Lincolnshire Yorkshire and The Humber 27.4 Merton London 26.9 Elmbridge South East 26.8 Broxbourne East 26.7 Rushmoor South East 26.4 Three Rivers East 26.4 Nuneaton and Bedworth West Midlands 26.1 Middlesbrough North East 26 Harlow East 25.9 Halton North West 25.5 Stevenage East 25.5 Blaenau Gwent Wales 25.4 Brighton and Hove South East 25.3 Kingston upon Thames London 25.1
References